Silverpoint SL has been declared by the Tenerife's Commercial Court to be in "Concurso de Acreedores". This was declared on the 15th January 2020 and it means that the company has fallen into liquidation. It has been expected for many months now that this would be the outcome for Silverpoint.
https://www.infoempresa.com/en-in/es/company/silverpoint-vacations-sl
What is "Concurso de Acreedores"?
"Concurso de Acreedores" is a Spanish legal situation that may be provoked voluntarily by the company or involuntarily by a creditor when a company is considered to have more creditors than assets. In other words; Silverpoint SL owes more money than their assets are worth.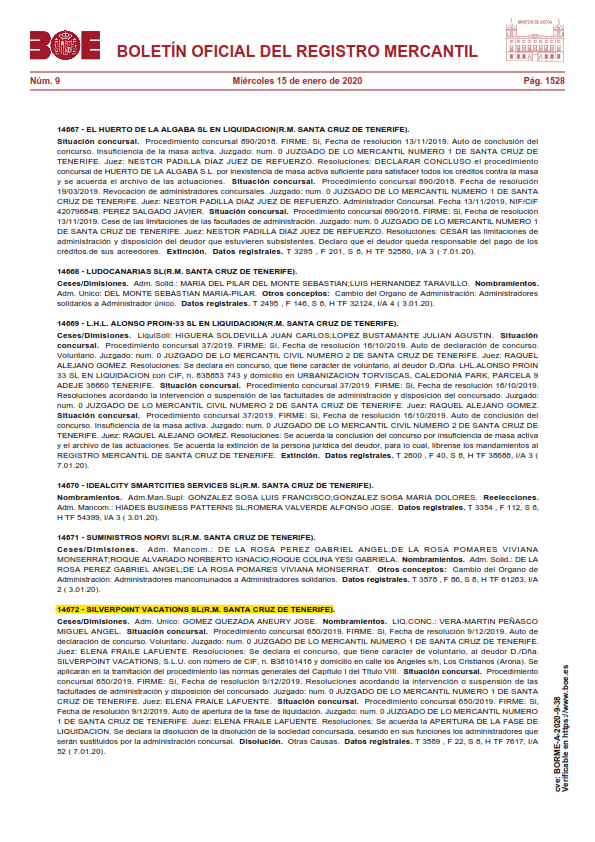 As far as we are aware, Silverpoint were attempting to hide their funds in order to avoid or delay what the courts have ordered from them, the company transferred it's fund to various locations in an attempt to do this.
Have they always been called Silverpoint SL?
This is not the first time that the company have faced liquidation. Silverpoint started as Resort Properties back in the early 1980s. They have since kept the same CEO; Mark Cushway. It is clear that Cushway will have been knowledgeable in the actions of the company due to this; he may be facing charges himself and even be finding himself in front of the eyes of the law.
Resort properties then branched into Palm Beach Club, Beverly Hills Club, Beverly Hills Heights and Hollywood Mirage. Some years later, these companies along with Club Paradiso fell into bankruptcy and transferred into Silverpoint SL. Now that the Silverpoint front has gone into bankruptcy too, the timeshare resorts have quickly transferred to yet another company; 'ONA group'.
What if I have a Silverpoint claim in the courts or I want to submit one?
We advise that you contact your legal representation for exact details pending your case.
There are numerous clients that our expert team of advisers have aided in exiting from their Silverpoint timeshare, as well as from many other groups and resorts. We also achieve compensation claims for our clients. The grounds for this usually consist of irregularities in the timeshare contracts which contravene with Spanish law and other grounds relating to misrepresentation.
Claims can still be successful and monies awarded even if a company has gone into liquidation. The only difference will be the type of court that the claim should be submitted to, a complication your legal team will handle and it will not affect your case negatively.
You can view our victories against Silverpoint and other timeshare resorts and groups on our website at https://ecc-eu.com/latest-victories.
Are other groups being looked into?
It would appear that Silverpoint may not be the only timeshare group to be facing the law as the Provincial State Prosecutor in Gran Canaria is already taking a keen interest in ANFI Resorts. This is over similar reasons to that of Silverpoints downfall. It appears as though ANFI are too trying to hide their money by passing it between places.
If you believe that you may have been mis-sold your timeshare, are worried about what Silverpoint SL's liquidation might mean for you or you simply want to exit from your timeshare then please do not hesitate to get in contact with our expert advice team as soon as possible.